Global Mechanical Boilers
Hydronic Heat & Steam Heat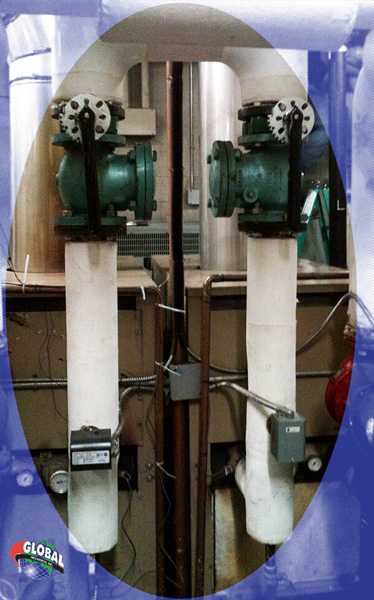 No matter what your hydronic heat need is, from the latest in condensing boilers to servicing single pipe steam heat, Global Mechanical can help. We understand construction, both renovation, and new build. Service is our cornerstone, making your equipment run at its best is what we excel at.
We are available 24/7 to handle any emergency. One call does it all 204-654-4900
Preventative Maintenance
Regular maintenance will extend the life of your heating equipment. Clean burners, lubricated bushings and proper belt tensions will all help you reduce energy costs and prevent costly repairs. We can let you know if a pump or a motor needs a rebuild or replacement before they fail. Testing your controls in the fall will avoid costly emergency service bills when the thermometer dips well below zero. Working with the Department of Labour inspectors will ensure you get the most value from your existing equipment from burners to breaching. Count on Global for preventative maintenance that saves you time and money.
Service
Boilers break. Controls fail. Flames go out. This is the call to action for Global's committed service mechanics. With the skills in old and new technologies, our A fitters get boilers up and going fast.
We have the resources for planned service and know exactly what the Department of Labour is looking for in their inspections. Our contacts with manufacturers and suppliers give us access to the right knowledge to do complex repairs quickly and efficiently. We have the tools and material to get to work quickly with a minimum of interruption to your daily business.
Design build
We have design and engineering skills to take a boiler project from start to finish. We can effectively design solutions for renovations of existing systems or construction of new. Small projects include the retrofit of high-efficiency boilers for potable hot water heaters with defined savings and all types of radiant heat. Large projects include steam to hot water conversions and process piping. Working with your engineers or providing our own stamp, Global is committed to effective design.
The right design will save you time in construction, energy consumption and reduce your cost of operation. We take pride in the right design - every time.
Construction
Our construction crews are organized and work as a team from initial plan through to completion. We have a strong relationship with key subcontractors and can get the whole job done from asbestos abatement to millwork.
When you see a Global site in action, all the material is organized and ready for installation. Each journeyman and apprentice moves quickly and effectively through their tasks with purpose and focus. We take pride in doing jobs right - both big and small. The leader in charge of the project knows where we are at every step of the way. He will be looking for opportunities to pick up time or doing the job a bit better all the while communicating his work to other trades and you the customer.
Our crews take pride in their workmanship. From the pipe hangers to tightening every vitaulic joint, all of us at Global know our success tomorrow counts on us doing the job right today. We are old school - do the work right the first time. Renovations and large repairs are a specialty for us. Uniformed tradesmen, clean vans and clean work sites will mean a job with minimum interruption to your customers and daily business.
We can act as the mechanical general or a subcontractor. Our goal is the same - the best workmanship at the best price. We succeed at both bid and spec and negotiated work because we stand by what we do 100%. Fully bonded and insured. Committed mechanics doing great work. This is the Global way.