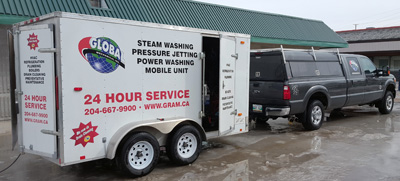 Frozen Parking lot drainage
Condensers
Drain Sludge / Ice
Stacks
Heat Exchangers
Coolers
Tube Cleaning
Tar Equipment
Concrete Slab Walls & Floors
Paint removal
Surface Preparation
Mobile Hot Water Pressure Washing
Steam Cleaning
The unit is fully adjustable to allow for use at low-pressure steam to clean AC Coils and RTU units and is fully portal with 400 feet of hose and a 200 gallon tank for remote service or connected direct to water source for continual service. Jetting power is up to 3500 Psi and mobile boiler can provide any temperature water and steam in minutes.
Use high-pressure highly efficient and environmentally safe water blasting to remove graffiti and paint, mold, grime, dust, mud and dirt from surfaces such as buildings, vehicles and concrete surfaces. Cleans eaves troughs, roof drains and stack vents.
We have the ability to tackle the toughest jobs in all areas of industrial & commercial cleaning, taking the least amount of time.