Global Mechanical Plumbing
Plumbing & Drain Cleaning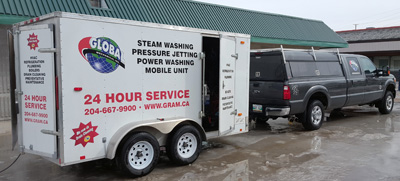 Commercial Plumbing & Drain Cleaning
Whether it is hot or cold, water belongs in pipes and sinks, not on your floor. Plumbing is a basic but substantial part of commercial buildings.
We are available 24/7 to handle any emergency. One call does it all 204-654-4900
Preventative Maintenance
Commercial Buildings have plumbing systems that require maintenance, inspections and sometimes certification.
Global has all the equipment and certifications to do your City of Winnipeg back water testing. If you have a back water valve, it needs regular testing.
Getting to a leaking toilet or dripping faucet in the broom closet will save you big dollars in water bills.
We have the resources for planned service; we set up a schedule and stick to it. We record all of our work on a summary sheet and leave it in your mechanical room so that you can quickly see our last visit and when we are scheduled for the next maintenance. We have the tools and material to get to work quickly with a minimum of interruption to your daily business.
Service
When hot water stops, when drains plug, when rain water leaders leak, you want a quick response and the problem fixed with minimum impact on your business. You want a clear explanation of what is broken and the options you have for fixing or replacement. This is what we do for you. Arrive quickly and diagnose the problem. Give you the options and all the costs associated. With your approval, we fix.
Our secret is our technicians. Everyone takes pride in their ability to solve and fix problems. Fixing it once, fixing it right. That's why we say, "one call does it all".
Construction
Our construction crews are organized and work as a team from initial plan through to completion.
When you see a Global site in action, all the material is organized and ready for installation. Each journeyman and apprentice moves quickly and effectively through their tasks with purpose and focus. We take pride in doing jobs right - both big and small.
Our crews take pride in their workmanship. From a new faucet to a hot water tank all of us at Global know our success tomorrow counts on us doing the job right today. We are old school - do the work right the first time. Renovations and large repairs are a specialty for us. Uniformed tradesmen, clean vans and clean work sites will mean a job with minimum interruption to your customers and daily business.
We can act as the mechanical general or a subcontractor. Our goal is the same - the best workmanship at the best price. We succeed at both bid and spec and negotiated work because we stand by what we do 100%. Fully bonded and insured. Committed mechanics doing great work. This is the Global way.
Drain Cleaning
Sluggish drains, standing water, sewer overflow... we can help.
When drain pipes get clogged you can experience problems with toilets, main sewers, sinks, tubs, showers, laundry lines, floor drains, or anywhere a drain pipe is used. Odours and flooding can cause a lot of property damage.
Foreign objects, misaligned or collapsed pipes and tree roots are common causes for drain pipe problems.
Preventative Maintenance
Global Mechanical is fully stocked with all the equipment needed to prevent any unwanted water or waste from flowing in your business. Along with our emergency service we also handle general maintenance including indoor and outdoor tap or pipe repairs and replacements. We offer full plumbing services as well.
Service
Our trained professionals know how to solve these problems fast, using equipment that will open the most stubborn clogs. We scour pipe walls and use drain pumps to deal with the immediate problem, then offer solutions to fix or avoid future issues. Our service trucks are equipped with the latest in drain cleaning equipment, cameras and pipe locators.  Our technicians are trained to complete any emergency repairs required.