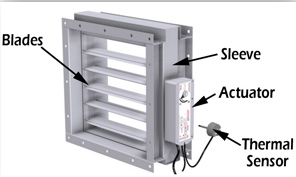 Fire Dampers are passive fire protection mechanisms used in heating, ventilation and air conditioning (HVAC) ductwork. They are designed to prevent smoke and fire from spreading through ventilation ducts. They are installed in the ductwork located in the ceilings, walls and floors of your building. A typical condominium or apartment block over 3 stories that has a hallway or stairwell ventilation will have multiple Fire Dampers.
The Office of the Fire Commission of Manitoba (OFC) now requires annual location and inspections of Fire Dampers in apartment blocks and condominiums. It's important to have a report completed by licensed and certified inspector for your insurance company.
City of Winnipeg - Fire Prevention Inspection
Global Mechanical provides complete
Fire Damper Inspection, Repair, and Reporting to the OFC.
Today, we're doing this for hundreds of commercial buildings in Winnipeg. We are the leaders in Fire Damper Inspection, Repairs and Reporting.
If you'd like to receive more information about Fire Damper inspection, repair or reporting please call or email us and we will be in-touch with you.
Yes, I'd like more information about Fire Dampers.