Heating, Ventilation & Air Conditioning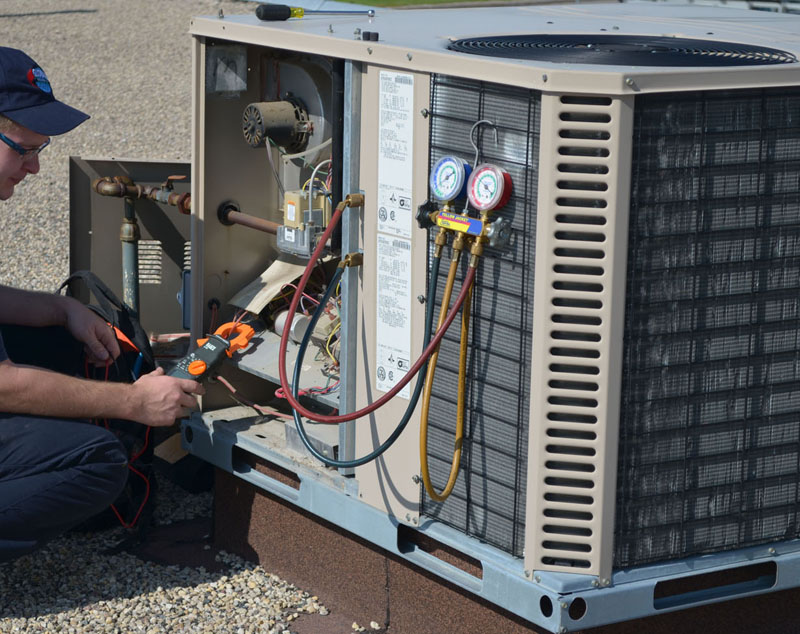 Every commercial building in Manitoba needs heating, cooling or both. A huge part, up to 80% of your energy bill is for heating or cooling your business space. The right contractor will reduce these costs.
Global Mechanical's planned maintenance offerings are diverse and will vary to meet your budget and needs. Clean, regularly serviced equipment consumes less energy and avoids costly after-hours breakdowns.
Our planned agreements, emergency support and facility management & operations programs are designed to cover all industrial and commercial needs.
We are available 24/7 to handle any emergency. One call does it all 204-654-4900
Preventative Maintenance
All moving parts eventually break. The cleaner the equipment, with manufacturers recommended service, increases the time between failures. Regular maintenance will extend the life of your heating equipment. Clean burners, lubricated bushings and proper belt tensions will all help you reduce energy costs and prevent costly repairs. Count on Global for preventative maintenance that saves you time and money.
We have the resources for planned service; we set up a schedule and stick to it. We record all of our work on a summary sheet and leave it in your mechanical room so that you can quickly see our last visit and when we are scheduled for the next maintenance. We have the tools and material to get to work quickly with a minimum of interruption to your daily business.
Service
When your heating or cooling stops, you want a quick response and the problem fixed with minimum impact on your business. You want a clear explanation of what is broken and the options you have for fixing or replacement. This is what we do for you:
Arrive quickly and diagnose the problem
Give you the options and all the costs associated
With your approval, we fix
Our secret is our technicians. Everyone takes pride in their ability to solve and fix problems. Fixing it once, fixing it right. That's why we say, "one call does it all".
Construction
Our construction crews are organized and work as a team from initial plan through to completion. We have a strong relationship with key subcontractors and can get the whole job done - from curb adapters to diffusers.
When you see a Global site in action, all the material is organized and ready for installation. Each journeyman and apprentice moves quickly and effectively through their tasks with purpose and focus. We take pride in doing jobs right - both big and small.
Our crews take pride in their workmanship. From a simple unit heater in the garage to complex heat pumps, air makeup and large roof top units, all of us at Global know our success tomorrow counts on us doing the job right today. We are old school - do the work right the first time. Renovations and large repairs are a specialty for us. Uniformed tradesmen, clean vans and clean work sites will mean a job with minimum interruption to your customers and daily business.
We can act as the mechanical general or a subcontractor. Our goal is the same - the best workmanship at the best price. We succeed at both bid and spec and negotiated work because we stand by what we do 100%. Fully bonded and insured. Committed mechanics doing great work. This is the Global way.
We take pride in the right design- every time.